THIRTY YEARS LATER
Next September we will have lived in our log cabin castle on Lake Pagosa for 30 years. Our guest apartment will have hosted weary and wounded travelers for 20 years. You have had a part in making it all happen. When you came to visit us in 1979, you initiated the project called "The Upper Room." Our garage roof had collapsed due to much snow and our lack of knowledge of how to handle it. A builder, Andy Bowles, had a lot of ingenuity. God was with him. He was able to jack up the caved in roof, double up on the supporting beams that had broken – and we were back in business. You came along a few months later and helped build the first walls of the Upper Room. Before it actually became the Upper Room guest apartment – a thousand square feet of love and pampering, the large empty space gave birth to a church.
Here is a letter from one of our first guests:
COME AND TASTE
Dearest Peter & Rebekah,

Just wanted to say thank-you for such loving kindness and the time spent with you. It was healing for the bones! I was taking deep breaths for days, breathing in that Life you prayed.

During the drive home, I was thinking about "The Upper Room". As I walked through the room, I felt as though I had been in that room before. Then, words from the Lord came, and He said, "Come, sit in the arms of 'The Upper Room' for it is the rocking chair of My heart." And I remembered the times I had crawled up onto the lap of My heavenly Father, and as He brushed the tears from my eyes, rocked me to sleep. The chair creaking with years of experience as He rocked. I wondered how many had been rocked in His arms as little children coming to Him for comfort, and how many were still to come. It is a place I have come to love. I remembered how good He smelled, and how gentle His silence was.

I remembered the unlimited invitation to stay, and the open invitation of "anytime." I remembered how His robe filled the room with His presence. I remembered an overwhelming sense of peace flowing over and into me as we rocked. I remembered the protection of nestling in the folds of His robe and being hidden in the downy softness of His love. But what I remembered most of all, was hearing the beating of His Father's heart. A Father's heart of love, protection, and comfort for all of His children. And I remembered, after some time of rocking, my tears had turned into a whispered smile of peace. And in the security of the arms of my Father, He rocked me to sleep.

That is what I sensed when I was in "The Upper Room". A place where many, many children will climb up into the lap of their loving Father. A place where they will receive their needs – love, comfort, peace, strength, renewal, healing. A place where they can be held in their Father's arms and rocked to sleep. A place where they can be still and listen to His heartbeat. He is already there; sitting in His rocking chair, with His arms open, waiting for those who will "sit in the arms of 'The Upper Room,' the rocking chair of His heart."

Thank you again dearest ones for your support and your prayers. Rebekah, I still want to help with "The Upper Room." Let me know when you are ready.

Much love, Chyenne










THE LION OF THE TRIBE OF JUDAH IS ROARING
Our life continues to be very rewarding, challenging and full of adventures. Trusting God and living by faith is not designed for cowards, slouch, or couch potatoes. Once Rebekah and I decided to follow Jesus all the way, we were at war with the world and its value system. Being called "weird" or "out of it" by the world is a mild and kind way of saying, "you are nuts." After a while we got used to those words and felt sorry for anyone who spoke them. Yes, Rebekah and I have decided to be nuts for and about JESUS and stay that way.
Some of the people who knock on our door are desperate to hear from God. They have tried everything the world has to offer and are still miserable. We rarely allow them to lean on us for answers. We send them to the Upper Room, tell them to sit in the rocking chair of God's heart and get their answers directly from JESUS. But occasionally the Holy Spirit will use us to get them past dead center.
Recently a man in his early fifties came to stay in the Upper Room. He was desperate. "If I don't get some fresh answers, insights and ammunition," he said, "I might call it quits. My brother did."
After he was here for a few days, his hopelessness began to glum unto me. At first I was not aware that the dark and gloomy cloud around this man was trying to attach itself to me. I only realized what was happening as I took our guest for a drive up Wolf Creek Pass on the last day he was with us. As a prostitute makes advances upon her unsuspecting victim, the gloomy nature around the man made advances upon me. The moment I became aware of what was happening, I took the stance of a warrior.
And here is what I told the man, "Let's assume that I would drive you up to the top of Wolf Creek Pass over and over again all day long, would you not get bored and irritated even though the scenery is breathtaking?"
He agreed, "Yes, I would get bored and irritated."
"Well," I replied, "I am sick and tired of having you rehearse all the negative events in your life over and over. Once is OK, and twice is tolerable; but after that it becomes boring and unproductive for me or anyone else to listen to all your gripes and complaints." Rebekah would say and mean it, "Three time and you're out."
My reply shocked him at first and was like shock treatment for him. My strong outburst of words surprised both of us. But I had no need to apologize or try to call back words that issued like a sword from my mouth. I knew that the Lion of the tribe of Judah in my heart had spoken and roared. My words "clicked" with him. He realized that he was heading for disaster, insanity and even death if he continued to be so negative and spread garbage wherever he went. He made a paradigm shift as we stood at the overlook on Wolf Creek Pass.
The man was set free the moment the insight came about his negative and accusing attitude. He was set free when he realized that Satan was the accuser of the brethren and had been feeding him a bunch of garbage. He is on his way towards freedom and victory.
But we also know that it may be years before he acquires the actual posture of a victorious and stable warrior. We see him free even though he has only started to walk in the direction of freedom. Freedom is Christ in us, the hope of glory! He will now be able to read the Bible without being bashed and condemned by every other word he reads. His eyes were opened. Satan will no longer be able to slap him around as he opens and reads the Word of God. He will be able to recognize more quickly that the devil is the accuser of the brethren and that he must not allow himself to be used that way. He knows that if he continues to be negative in his thoughts and conversations, it will be like driving coffin nails into his own coffin and alienating those who love him and want to be his friends.
This man left with great joy, gratitude and confidence that his life had been made new. He also knew that God had a place for him and that he had valuable gifts to give to others. He left a valuable and most unusual gift with us before driving away. He prayed for Rebekah and myself in a way no one had ever prayed for us.
He prayed for Rebekah by selecting a teddy bear that reminded him of special graces that the Holy Spirit wanted to impart to Rebekah. He asked God to let these graces pour over the bear like honey. He asked the Lord to let these graces stick like sweet honey to all who would sooner or later hold the bear in their hands. I recall that one of these graces was the joy of the Lord. I do not happen to have a picture of the bear readily available so I will substitute a teddy bear that Rebekah is very fond of.
When our guest was ready to pray for me he looked about and spotted a ferocious looking lion on our cabinet. The lion was given to us by our friend Vimmie several years ago. He held the lion in his hands as he prayed. He asked the Lord to impart to me the nature of the Lion of Judah and use me as a lion with sharp teeth and with an authority and confidence that parallels the nature of the Lion of Judah. He asked that others who might hold the same lion in their hands would also become acquainted with the Lion of Judah and desire and acquire His lion nature. As he spoke the prayer I said within my heart, "Lord, I gratefully receive the prayer and Your lion nature."
I had argued with Jesus numerous times in the past about being a man of war. I said, "Lord, it is not my personality to speak and roar as a lion and take dominion over the land." He replied, "Peter, I know the lion nature is not a part of your personality now; but I want you to have my personality." End of argument! It has been years since we had this conversation. It has been thirteen years since I said "YES" to the Lion of Judah in the same way I had said "YES" to the Lamb of God at the beginning of my walk with Jesus. I am still being transformed. He, Jesus, gave me this prayer to pray and pass on to others who would be willing to be the Lord's instrument of war. My handmaiden Rebekah, the Lord's artist, painted the perfect companion picture to the prayer.
LORD JESUS - MAKE ME AN INSTRUMENT OF THY WAR

Let everything that is hidden be revealed!
Expose all hypocrisy, especially that which is hidden in my own heart.
Expose all rebellion which is as the sin of witchcraft.
Expose all pride, that subtle monster who hides in most of us.
Expose the greedy who exploit the needy, and the strong who oppress the weak.
Expose all lust that masquerades as love, and begin within me.
Expose and tear down every man-made idol of success and self-gratification.
Expose Satan, the accuser of the brethren, who tries to hide in all of us;
And Lord Jesus, be the advocate for all who have been falsely accused.
Lord, vindicate the insane who have been judged without a jury; and begin with me.
And Lord, then let the Lion of the tribe of Judah roar through me!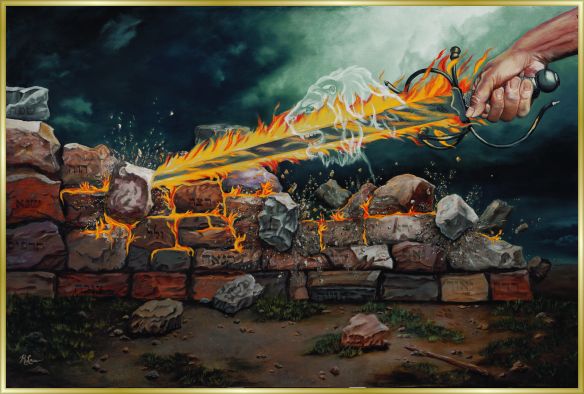 THE SWORD OF THE LORD – STRONGHOLDS ARE COMING DOWN
(for an explanation of the above painting, please Click Here)
We are all to reflect the nature of both the Lamb of God and also the Lion of Judah. The way I have interpreted Ephesians 4:13 for myself is this: We are all to come into the full stature and nature of the Son of God; and that means that we are to reflect both the nature of the Lamb of God and the Lion of Judah.
Oh yes, I said to our friend before he drove off, "When you come back, bring us the gift of victory. It's the only thing we need and don't have."
Many – very many have their names and gifts etched into these 26 pages including "Mutti", the endearing word for Mother in German. She crocheted the blanket on which the sandblasted sign is photographed. She is waiting for me in the galleries of heaven.
Well, my dear Virgil and Barbara, and all the others who may eventually read these words and see these pictures, I will close my epistle for now and go to bed.
A PLACE FOR YOU
July 17th, 2007
This "add on" is one of those unexpected outbursts of creativity. At times it seems that an angel drops a thought into my mind that compels me to write. It is happening more and more often lately. The unseen world is shrouded in mystery.
Lately I have been reflecting upon the way I met Rebekah, my handmaiden of 34 plus years. I was taking a walk and observed a church up on a hill made of adobe bricks. I said to myself, "Hmm, that architecture is quite unusual. I must take a look." I walked up the hill and tried the massive door of the church. It was locked. I looked about and found this young woman behind a typewriter in another building.
I inquired, "Would you have a key to the church? The unusual architecture fascinates me." She got the key. We walked over to the church which was only a few steps away and opened the door. I inquired, "Does the pastor of this church teach about the gifts of the Holy Spirit?" I do not recall her answer; but at that point our spirits leaped inside of us and 16 months later we became man and wife.
These kinds of experiences have punctuated my life ever since; and from time to time I feel compelled to
record them. And of late, I have enjoyed including pictures wherever possible.

Last week I was assembling a number of journals on our work table when my eyes fell upon a piece of a jigsaw puzzle. I had noticed it for quite a while. Eventually the box for the puzzle disappeared. Rebekah had assembled the puzzle during the winter. It was now the middle of summer.

I picked up the solitary puzzle piece and held it in the palm of my hand. I began to reflect upon the various seasons of my life. There were those years I felt quite
alone just like that lone puzzle piece - wondering where I fit – what school to go to - what kind of a job I would
have after graduation - where I would live and if I would find the woman that would complete my life?

The time eventually came when my world seemed full and rich and complete; when I thought I had found my niche. The time did come when it seemed as if my life was in perfect order and I had achieved what the world calls "success." But at that very moment the proverbial rug was pulled out from under me. How can I best describe that season? One day I "belonged" and the next day I was a social outcast and misfit. In a city of five million people, I suddenly was the loneliest person in the world. Where I fit before, I no longer fit and was not allowed to return to. I was like that solitary piece of the puzzle that I am holding in my hand. I was like a man without friend or family, cause or country. No one rolled out a welcome mat anymore. I survived, but only barely.
How can I best explain with a few words that in-between season? I can; but I would need to write a book that has already been compassionately and insightfully written. The author's name is Paul Tournier, a Swiss doctor, now deceased. What a beautiful gift he gave to all of us when he wrote: "A PLACE FOR YOU." We have had his book on our bookshelf for many years but I don't recall ever reading it. But after holding that little stray piece of a jigsaw puzzle in my hand, I was reminded of the book and got it from the shelf. As far as I am concerned, Paul Tournier is not dead. He is very alive for me and I would like him to become alive for others - for those others who have not discovered their place.
I passed the stray puzzle piece on to my friend Roger. He now carries it in his wallet as a reminder of my search and his own search for that wonderful place of "belonging."

This morning I asked our friend and housekeeper, Kathy, to take a picture of a puzzle piece that I borrowed from a puzzle that is still intact. After taking the picture, I returned it to its proper place. The name of the puzzle is: "Lo, I AM with you always." I also took a picture of the cover of the book: A PLACE FOR YOU. There is bound to be someone in the "Reader World" who feels like that stray puzzle piece and will either borrow or purchase the book. For me, reading the book was like finding my way home.

Peter – the Lord' Scribe