YES, LORD
The pictured sign changed my life forever. In 1975 we learned the craft of making sandblasted signs from our
| | |
| --- | --- |
| friend John Allen. Tomb stones and monuments have been engraved for at least 75 years or more using a process called sandblasting. Sand is blasted under high pressure of 100 pounds per square inch unto a surface that is masked off so that the desired picture or words either stand out in relief or are etched into the surface. It is a very practical and easy craft to learn. But more recently, commercial store front and directional signs have also been made using the same process but using wood and other media in lieu of granite. | |
We played around with the craft at first and made a few simple signs on 2" by 4" construction redwood and pine. One day, a year later, we decided to attend a craft show where we could display our signs and offer them for sale. One of the "lookers," a Susan Klassen, saw a sign similar to the above one and purchased it for five dollars. She also ordered a second one for a friend. The sale of those two signs launched us into the sandblasted sign ministry. The ten dollars was the first money I had earned in six years.
"Crafts for Christ" – a cradle for new ideas, was born. The above sign is roughly 10" by 4" and is made on a piece of black granite. As you can see it is a piece of scrap that we were able to salvage. Rebekah came up with these words, "The cripples marry the rejects and together they inherit the world." That's us. I like to work with material and folks that the world has scrapped or rejected.
The unique lettering of the words "YES, LORD" came from the cover of a book by Harald Bredesen who eventually became our pastor and neighbor. His book legitimized my gift of speaking in tongues and thereby set me free. I no longer needed to hide the gift. Harald Bredesen also encouraged us to display our sign work at his church and offer those who were interested an opportunity to learn the craft. Sixty eager students signed up to take the first class. Shortly thereafter we began to travel and teach the craft in maybe a dozen states. We also published three handbooks explaining the process and where to purchase necessary supplies. The last book was published in 1980. It is now available free of charge as an e-book. It can be downloaded from our web site.

A number of sign ministries have also been birthed. A thriving sign business was birthed by our friend Brian Burnett. Yes, a large part of my healing came as a byproduct of using my hands and having a way of expressing my creative nature. I was so happy and preoccupied making sandblasted signs, the devil got a busy signal whenever he attempted to confuse or torment me. Today I try to help others find
their own unique sandbox in which they can play and express their God-given gifts. To be well and stay well, we all need to give ourselves the permission to spend time in our sandbox. But first we need to find it! For some it may be making signs, for others, baking or sowing, hunting, fishing, making quilts, painting, photography, gardening, playing an instrument or singing. Watching a parade does not count. We have to be in it.

I have edited the cover of the Crafts for Christ Handbook into the above text. You can download the book as a PDF file by right clicking on and use the "Save As" option:

www.stretcherbearers.com/Downloads/handbook.pdf

One way I express my gratitude to Jesus and those who have made it possible to publish the book is by sharing it freely. The book is and will always be copyright free. And if you play in the same sandbox with us, do let us know.

And where do we go from here? Well, the subject of anger keeps surfacing. It is not one of my favorite subjects. Anger is one of the villains that nailed Jesus, the Son of God, to the cross. Anger and rage has sent many to an early and cruel grave and also behind prison bars. We have all done hand to hand combat with that villain and at times have succumbed to it. I am ashamed to say that I have hammered people with my anger – if not verbally, I have done so in my thoughts and with an ugly attitude. Rebekah has helped me a lot by showing me the verse in the Book of James: "Wherefore beloved brethren, let every man be swift to hear, slow to speak, slow to wrath, for the wrath of man worketh not the righteousness of God."( James 1:19-20). Our Spring 2000 Stretcher Bearers for Christ newsletter was entitled, "ABOUT ANGER & MUCH MORE". The pictures I included spoke louder than the words I wrote. And here is one of the pictures.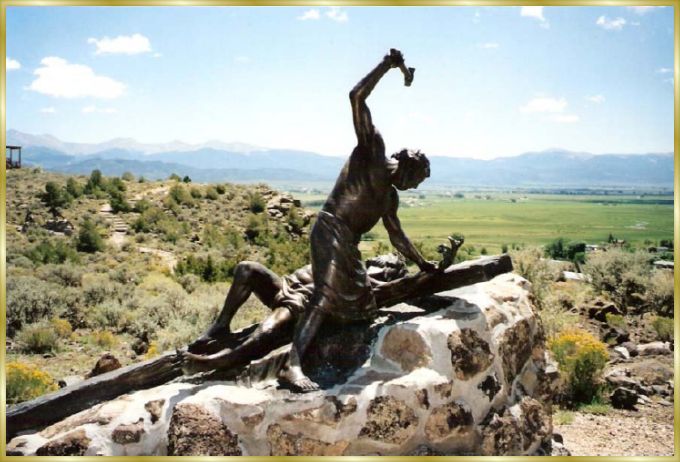 It is a mystery, but it is true,
Every angry heart adds a blow or two.
Hold it true that thoughts are things, endowed with bodies, breath and wings,
And that we send them forth to fill, the world with good results or ill.
Ella Wheeler-Wilcox.
One of fifteen bronze sculptures nearly life-size by Huberto Maestas.
It is a life-changing experience to see and touch these sculptures in San Luis, Colorado.



The World's Hatred



18 "When the world hates you, remember it hated me before it hated you. 19 The world would love you if you belonged to it, but you don't. I chose you to come out of the world, and so it hates you. 20 Do you remember what I told you? 'A servant is not greater than the master.' Since they persecuted me, naturally they will persecute you. And if they had listened to me, they would listen to you! 21 The people of the world will hate you because you belong to me, for they don't know God who sent me. 22 They would not be guilty if I had not come and spoken to them. But now they have no excuse for their sin. 23 Anyone who hates me hates my Father, too. 24 If I hadn't done such miraculous signs among them that no one else could do, they would not be counted guilty. But as it is, they saw all that I did and yet hated both of us—me and my Father. 25 This has fulfilled what the Scriptures said: 'They hated me without cause.'
26 "But I will send you the Counselor—the Spirit of truth. He will come to you from the Father and will tell you all about me. 27 And you must also tell others about me because you have been with me from the beginning."

John 15:18-27

ISAIAH - Chapter 49



You may recall that I went to Israel in September of 2005. It was a life-changing experience. I will never be the same. I journaled my experience in the book: "The Stone Table at Maagan". You have a copy. It can now be downloaded from our web site.

When I returned from the trip I took one look at the picture of Jesus on the next page and said to myself, "That is the Jesus I met in Jerusalem. That is the Jesus who lives in my heart today." And as I read His words, they are totally alive and very, very personal. I am now permitted to experience a range of emotions that are so strong and so real that I tremble and sometimes feel like a bowl of jello. My lips are guarded. I dare not divulge the range of thoughts and emotions that flood my soul. Some are very wonderful, others are very painful. My dreams are also more profound and sometimes "earth-shaking." I have gotten used to being referred to as a "mystic" or a "weirdo." They can no longer pierce the armor I am wearing. Jesus loves me and is hiding me under the shelter of his wings.

I am so grateful that I can share these deep conversations of the heart with you. I am so very grateful for every person who is on the same page with Rebekah and myself. Yes, we can both read the same Bible but that does not assure us that we are on the same page. With some people and in some churches I feel like a stranger and an outcast, but not in your presence. My heart is at home and safe as I write to you.

At the moment I have a compelling desire to read and reread Isaiah, chapter 49 in my Living Bible. I will copy the chapter for you. Maybe Life will flow through my fingertips onto the page as I type the words. I pray that this will happen.

Listen to me, all of you in far-off lands. The Lord called me before my birth. From within the womb he called me by my name. God will make my words of judgment sharp as swords. He has hidden me in the shadow of his hand. I am like a sharp arrow in his quiver.
He said to me: "You are my Servant, a Prince of Power with God, and you shall bring me glory."
I replied, "But my work for them seems all in vain; I have spent my strength for them without response. Yet I leave it all with God for my reward."
"And now," said the Lord – the Lord who formed me from my mother's womb to serve him who commissioned me to restore to him his people Israel, who has given me the strength to perform this task and honored me for doing it! –"you shall do more than restore Israel to me. I will make you a Light to the nations of the world to bring my salvation to them too."
The Lord, the Redeemer and Holy One of Israel, says to the one who is despised, rejected by mankind, and kept beneath the heel of earthly rulers: "Kings shall stand at attention when you pass by; princes shall bow low because the Lord has chosen you; he, the faithful Lord, the Holy One of Israel, chooses you."
The Lord, the Redeemer and Holy One of Israel, says to the one who is despised, rejected by mankind, and kept beneath the heel of earthly rulers: "Kings shall stand at attention when you pass by; princes shall bow
low because the Lord has chosen you; he, the faithful Lord, the Holy One of Israel, chooses you."

The Lord says, "Your request has come at a favorable time. I will keep you from premature harm and give you as a token and pledge to Israel, proof that I will reestablish the land of Israel and reassign it to its own people again. Through you I am saying to the prisoners of darkness, 'Come out! I am giving you your freedom!' They will be my sheep, grazing in green pastures and on the grassy hills. They shall neither hunger nor thirst; the searing sun and scorching desert winds will not reach them any more. For the Lord in his mercy will lead them besides the cool waters. And I will make my mountains into level paths for them; the highways shall be raised above the valleys. See, my people shall return from far away, from north and west and south."
Sing for joy, O heavens; shout, O earth. Break forth with song, O mountains, for the Lord has comforted his people, and will have compassion upon them in their sorrow.
Yet they say, "My Lord deserted us; he has forgotten us."
"Never! Can a mother forget her little child and not have love for her own son? Yet even if that should be, I will not forget you. See, I have tattooed your name upon my palm and ever before me is a picture of Jerusalem's walls in ruins. Soon your rebuilders shall come and chase away all those destroying you. Look and see, for the Lord has vowed that all your enemies shall come and be your slaves. They will be a as jewels to display, as bridal ornaments.
"Even the most desolate parts of your abandoned land shall soon be crowded with your people, and your enemies who enslaved you shall be far away. The generations born in exile shall return and say, 'We need more room! It's crowded her!' Then you will think to yourself, 'Who has given me all these! For most of my children were killed and the rest were carried away into exile, leaving me here alone. Who bore these? Who raised them up for me?'"
The Lord God says, "See, I will give a signal to the Gentiles and they shall carry your little ones back to you in their arms, and your daughters on their shoulders. Kings and queens shall serve you; they shall care for all your needs. They shall bow to the earth before you, and lick the dust from off your feet; then you shall know I am the Lord. Those who wait for me shall never be ashamed."
Who can snatch the prey from the hands of a mighty man? Who can demand that a tyrant let his captives go? But the Lord says, "Even the captives of the most mighty and most terrible shall all be freed; for I will fight those who fight you, and I will save your children. I will feed your enemies with their own flesh and they shall be drunk with rivers of their own blood. All the world shall know that I, the Lord, am your Savior and Redeemer, the Mighty One of Israel."