We are told in the book of Acts, chapter 2, verse 17, that "... your old men shall dream dreams." The painting by the artist Rebekah Laue is a portrayal of her husband's prophetic dream. She pondered the dream for many years before she was able to capture it's essence on canvas.

In his dream, Peter saw a rock wall with an ordinary stick lying nearby. He was prompted to pick it up and beat vigorously on the wall. Nothing happened! Then he saw a lion's paw at his feet. He dropped the stick, picked up the paw and barely touched the wall. As he did, the wall began to crumble

Peter awoke weeping and trembling as he experienced new authority, purpose, power, and confidence streaming into every fiber of his being. In lieu of a lion's paw he has acquired a real sword, which he now uses in spiritual combat.

The stick is symbolic of man using his own strength and wisdom to tear down strongholds. The rock wall is symbolic of those walls around our hearts that imprison us and cause us to be isolated from God and one another. The Hebrew letters on the rocks represent strongholds such as hate, anger, revenge, rebellion, witchcraft, bitterness, pride, fear, unbelief, unforgiveness, lust, idolatry, greed, gluttony, jealousy, self-pity, legalism, and man's traditions.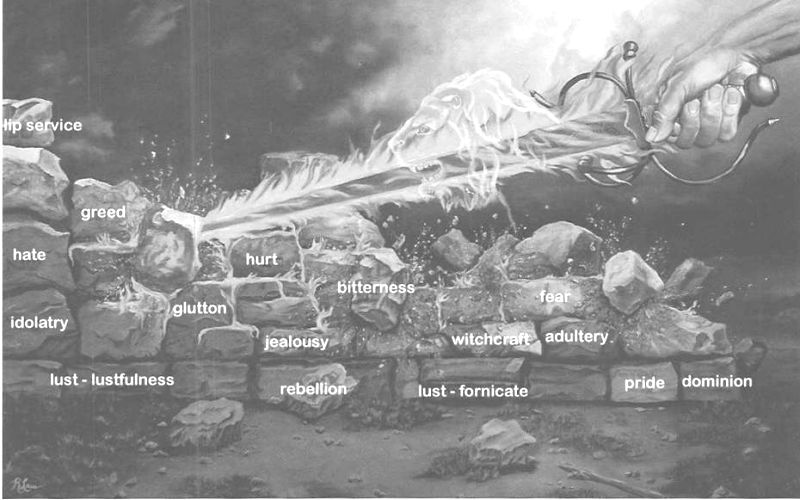 The sword issuing from the lion's mouth is the Sword of the Lord, which is the Word of God. The lion portrays Jesus Christ as revealed in the book of Revelation, chapter 5: "... Behold, the Lion of the tribe of Judah, the Root of David, has prevailed..."

The truth in the painting shall march throughout the land like a banner and confront the strongholds that imprison us. Has God singled you out to carry that banner and address those strongholds? Before saying YES or NO, count the cost or the opportunity lost! TAKE A STAND! TAKE BACK THE LAND!

For more insight and information, go to our page The Other Peter's Epistles to request the epistles "God's Mighty Men of Valor" and "Wimp or Warrior?"