But what about the roll? I still had most of the roll left. I stepped to the edge of the lake, tore off a piece and threw it into the lake. It landed amongst the rocks. The next piece I tore off was a little larger. I put more oomph into my toss and got the piece into the lake. Before long, the whole roll was floating in the lake and little fish came and sampled my offering. More fish came, and within ten minutes, every piece of bread was gone. Quite unexpectedly, I found myself praying along these lines: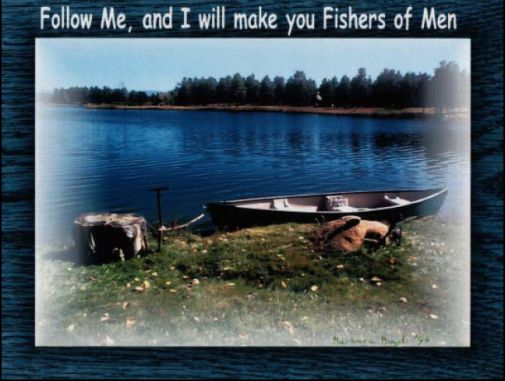 Lord, let my life, the stories I have written, the revelations you have granted me, the adventures, the trials and tribulations be summed up in a book that will feed many fish in the sea of humanity. Scatter my life far and wide, and let it feed and bring in a rich harvest of souls. Use me to be a fisher of men.
A little while later, John came with two cups of coffee. Israel serves coffee in cups, not mugs. Most restaurants don't have waitresses hovering over you, asking if you want a refill. Refills are generally not free. I told him about the way the little fish came out of nowhere and ate the little pieces of my roll. Then I added, "No one in Jerusalem liked what I brought along. No one in Jerusalem seemed to care if I came or not. No one in Jerusalem welcomed me."
John replied with a smile, "Peter, if you had stood in the temple courtyard and thrown shekels or 100-dollar bills on the ground, you would have had a lot of takers."
We both laughed. It was a great analogy. A lot of folks liked being fed by Jesus. A lot of folks liked the miracles He did, but that did not mean that they loved Him or believed that He was the Son of God, the long-awaited Messiah. We like gifts but don't necessarily care a hoot about the person who brings them. Shame on us!
The story about communion is not finished. After we got through laughing about the fish story, we turned to weightier matters. I proceeded to tell John how I had tried to make communion a meaningful experience and had utterly failed. He had the just right words for me, words I could easily receive.
John said, "Peter, I took communion a few weeks ago and the Lord spoke to me and said, 'John, whenever you take communion you bless, love, and honor me. Every time you put Me into remembrance, you bless Me. When you recall and thank Me for pouring my life out for you, you touch my heart and nourish your own.'"
That's the piece of the puzzle that had been missing. Communion is no longer just a word for me; in fact, it is not even for me. It is for Jesus in me. Jesus in me is nourished when I take communion. Every time I take communion, I am cultivating my relationship with the Son of God. Jesus has a huge nursery, a huge flock of little lambs. When we take communion, the newborn lambs are being breast-fed.
Yes, the Kingdom of God is within us. I see it now. Jesus enlarges my heart with Himself every time I take communion. In so doing, I honor Him and acknowledge Him as the sacrificial Lamb of God who came to take away my sins. Only His sacrifice can make us squeaky clean. But pride never likes to hear those words. Pride always says, "I can do it myself," or "My self can do it!" or "I have never sinned; I don't need a Savior."
I hope this will help those who have struggled like I have. Whether child or adult, we all like to be remembered on our birthdays. What woman does not like to be surprised with a bouquet of flowers or be invited to her favorite restaurant? Yes, "Love Remembers"; that's the title of Rebekah's painting of Mary kneeling at Jesus' feet, wiping them with her hair.
A Little More About "The Stone Table" and Some Lovely Gifts

I have been compelled to unload the stories in the cargo bays of my ship as quickly as possible. It almost seemed as if they were like perishable goods that needed to get onto the shelves of our spiritual supermarkets quickly. I have gotten up early in the morning – at 4:00, 5:00, 6:00 and 7:00 AM – and headed straight for my computer.

I asked for a laptop computer so that I could seclude myself in our Upper Room and write without interruptions. Well, by the time the promised laptop arrived, I had already unloaded the bulk of my cargo.. But be assured, my generous friend, your laptop will find many meaningful applications.

I was ill and exhausted when I began writing, but I wrote anyway. Each day that I unloaded more of the treasures from my "see-going" cargo ship, my health improved. Now that I am almost done, I am almost well.

The stone table – what about the stone table? You can see it pictured on the cover of this book. On the top of it is a small sandblasted sign that is


"LoveRemembers" by Rebekah Laue
3" by 8". The name of Jesus is written in the Hebrew alphabet and in its equivalent English alphabet. The sign was lovingly made by Michael and Jeanna Miller of Albuquerque, New Mexico, USA. In fact, they made a number of them to be given as gifts to my Jewish brothers and sisters in Israel. No one wanted them, and I wound up taking them back to America, with the exception of the one pictured on the cover of the book.

After John took the picture with his digital camera, I slid the sign between two rocks. The Millers also made a larger sign for me that we brought back. A verse from the Book of Exodus was engraved on it. I asked Michael to seek God about just the right verse to present to my Jewish family, and here are the words he engraved (sandblasted) for me on a beautiful sixteen-inch, square stone: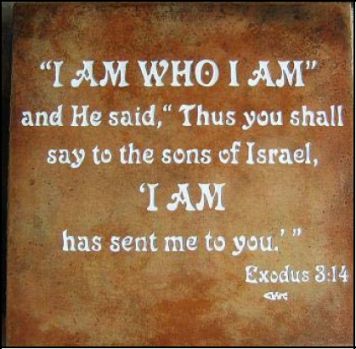 I had a chance to show the beautifully etched stone to only one person. The response was pathetic. "I don't think anyone will like the gift. It's not in Hebrew, and the Torah translates those words differently. There is a Christian ministry near the YMCA; maybe you ought to show it to them." I never had the heart to show the gift to anyone else while in Israel.
Well, here is my chance to redeem what was quite a put-down. I am telling everyone who reads this manuscript about the sign. Maybe someone would be blessed to have it. It has been all the way to Israel and back. If you would like to receive this gift, a trip to Pagosa Springs is the price you will have to pay. After the world-traveling sign has found the right owner and home, we will direct you to Michael and Jeanna Miller, who will be happy to make another one for you. Their web address is www.blastedtruth.com. As they say, "There is more than one way to skin a cat." If the front door is locked, try the backdoor.
I am the Lord's scribe and storyteller. I love my job. There are many more stories waiting to be told. I am just waiting for the right audience to invite me, whether here or "over there." I am a kid at heart. I have always loved "Show and Tell," and I always will.
God bless all of you who have turned the pages of this manuscript and read all of it. I thank you for inviting me into the living room of your lives. I think we are on the same page. We will recognize one another, whether we are wearing our earthly or heavenly garment because Jesus is the common denominator of our lives.
Good-bye.
Thank you, Jesus, for living Your life in us and through us.

It was midnight when "Dawn" our publishing expert said, "No more stories. You will have to include the next story in another book." But she backtracked when we received this letter from our friend Darcy:
I have been thinking about you so much. Tuesday I went to the shoe store to put some boots on lay-a-way for Sean and there before me was the anointed seal of the Lion of the Tribe of Judah. Even now I tear up thinking about him. I love the Lion, and now with C.S. Lewis's book coming to theaters the Lion of God is on the prowl. I see him everywhere and I worship Him. I love Him so desperately.
It was all I could do to stand under that anointing. Now, I feel it on my spirit, growing like a roar that longs to be released. God has asked much of me lately. But today all I can do is sit in his presence and do nothing but worship him. I just want to tell the world how much I worship Him, instead of hearing about the worship of gifts and stores and malls and songs and churches and "busy!" – I say WORSHIP HIM! HOSANNA IN THE HIGHEST! HE LIVES! THE GOD MOST HIGH IS MY DWELLING!...
. . . and then I noticed yet again, the meaningless angel on the top of my tree. I kept thinking about what I could make. . . a cross made from sticks wrapped in twine? No, not right, not right. A different angel? No, I don't want an angel, I want a Lion. What about a slice of a tree, not perfect but round and that Lion seal burned into the wood or painted to rest on the top of a tree. How glorious! If I can get someone to cut me the right kind of tree (so it's not too heavy) I am going to try and paint that lion. . . . or even burn it. Sean might have a wood burning kit.
I love you Peter and I miss you. I truly am busy with both hands and I am asking the Lord for time to sit with you and Rebekah . . . my friends. God bless you.
His song, Darcy