ALLAN, MY MOST EXCELLENT FRIEND
for the Spring 1999 Stretcher Bearers for Christ newsletter
I, Peter, sit here, pen in hand, to write this eulogy about my most excellent friend, Allan. It is almost two years since my most excellent friend said good-bye, crossed over the Jordan and entered the Promised Land. Never before in my life has God allowed me to feel such strong emotions about another person. You are so very special, Allan.


Even before I met Allan, but only heard his voice over the phone, I loved him. There was something in his rich Scottish brogue that set this man apart from all others I had ever met. And when I met him face to face the very first time, our friendship was sealed forever. Allan was born on the Orkney Islands, a part of Scotland, in 1929. He was raised in South Africa and educated in America. He spent the first part of his life pastoring a church in the Chicago area, but he seldom spoke of that time.

My love for Allan is a mystery. My love for Allan is a gift from God. Our love for one another is unqualified, unmerited, unconditional. It is just there and can only be compared with the love David had for Jonathan and Jonathan had for David. Even though Allan's body is in the ground, I know in my heart that he is waiting for me at God's banqueting table; and that we will soon meet again. My love for Allan is stronger today than ever. Whenever I remember Allan and talk or write about him, he is totally alive for me. With a smile, my handmaiden Rebekah likes to say, "Allan pushed his way to the head of the line and has graduated ahead of us."

I feel compelled to tell you about Allan and how he has touched my life. In age,
Allan was my senior by only a few years. There was something aristocratic about this man. His white hair and his rich, deep voice caused one to sit up and listen whenever he spoke. Here was a man of few words but much substance. One of his many gifts to me and others was his gift of listening. He had a way of making it easy for anyone to talk about themselves by asking just a few right questions. Allan was always there for others by shortchanging himself. He loved his books, but many of them slept on the shelf because of the many demands crowding his life. Like many of us, he had a hard time saying "NO" when someone needed to unburden their soul.

I believe there is something my most excellent friend would like to say to us who are waiting to graduate. I think there is something Allan would like to say to those who are battling cancer and other "terminal illnesses." I believe there is something Allan would like to say to friends and family, doctors and nurses, pastors and priests who attend to those who are very ill or have been severely injured in a life-threatening accident. But the only way he can say it now is through someone who loves him and knows him. And I love Allan. I love him very much and always will. And I would like to believe that my love for Allan was not mine, but love that Jesus placed in my heart to give to Allan. That's how I see love - a gift from God entrusted to us and to be given away.

"Terminal illness!" I don't like those words at all. It is a very poor choice of words. It only inspires dread and fear. It is a lie. It is a lie for all who are "in Christ" and have the hope and promise of being resurrected with Christ. I know my most excellent friend Allan would agree with me. In the name of Jesus I declare war on the word "terminal." It is man-made, devoid of hope and truth. I herewith replace the word "terminal" with the word "liberating." My friend Allan had a "liberating illness." He has exchanged his worn-out, temporal garment of flesh for a beautiful garment that will never see death, decay or corruption. He has run a good race. He is a winner. He has graduated from a hard school. He has been liberated. Will you give me a big "Amen" for these words, my dear Allan?

Is it possible or is it presumptuous to speak on behalf of someone who can no longer speak for himself? Is it possible to interpret their unspoken, dying wish or words? We do it all the time as we speak to others of Jesus of Nazareth and proclaim His Word. Allan would say to us, "Death and dying is not a monster to be feared. It is a season of life not to be denied or feared but to be embraced as a door to new life." We all know what the apostle Paul has said, "To be absent from the body is to be present with Christ."

Allan's widow, Joyce, received these consoling words from someone who also loved Allan:



When God sends for a spotless soul
To learn the ways of earth,
A mother's love is waiting there
We call this wonder," birth."


When God brings home a weary soul,
And stills the fitful breath,
A Heavenly Love is waiting there.
This too, is birth, not death.


Author Unknown



Cancer took Allan's life. It was Allan's second bout with this horrible disease. It is a cruel, ruthless monster. Cancer is a thief and a murderer who comes uninvited, often unprovoked. Doctors and nurses could only ease Allan's pain, but could not cure him. The prayers of all who dearly loved this man seemed to fall to the ground while cancer continued to ravage his body. But his soul was untouched. Allan died in the arms of Jesus and left a grieving group of mourners standing at his grave. But I shall not dwell on what is lost. I will dwell upon what was found. And one of the precious jewels I found is a letter written to Allan just before he entered the hospital for treatment. A friend wrote:
You are an encouragement to us, Allan. And I would encourage you by reminding you that cancer is so limited. It cannot cripple LOVE. It cannot shatter HOPE. It cannot destroy CONFIDENCE. It cannot kill FRIENDSHIP. It cannot shut out MEMORIES. It cannot silence COURAGE or invade the soul. It cannot reduce ETERNAL LIFE. It cannot quench THE SPIRIT. It cannot lessen the POWER of the RESURRECTION.

| | |
| --- | --- |
| | Your new Friend in Him, Patrick Brookins |


I have shared these words numerous times over the past two years. They are a gift to all cancer patients and their families, now and forever. Thank you Allan for the gift of these words. Cancer has provoked your friend Patrick to give all of us a precious gift. I believe Jesus spoke through the heart of his servant Patrick to his beloved son Allan and all others who battle cancer.

I recall those occasions when you and I had supper at the Moose River Pub. We had a favorite booth and a favorite dish. We both liked those rib eye steak sandwiches. You enjoyed a diet Coke and I enjoyed a cup of coffee. But what we enjoyed most of all was one another's company. There was nothing we could not tell one another. You were my priest and I was your priest. We could be naked and transparent in one another's presence. What a gift we were to each other! At times we were both carrying baggage that was weighing us down. And we could put it down whenever we got together. My past did not offend you; and your past did not offend me. I experienced the Father's unconditional acceptance of who I am through you. What a gift you gave to me. I met the heart of the Father through your heart.

We lived on the same lake. Sometimes you dropped in on us unexpectedly. You docked your boat and surprised us with a string of trout you had just caught. At other times I dropped in on you in my robe and slippers. When I was totally exhausted I could just crash on your couch and you understood. I could always snuggle up to your heart. I had a way of making my exhaustion obvious; but you kept some of your humanity to yourself; and I respected that. Nevertheless, I knew when my most excellent friend Allan was very tired.

Fighting cancer the first time took a lot out of you. When cancer struck for the second time, you did not have much fight left in you. You were tired. But many of us did not see this. The only way we knew how to pray for you was to ask God to spare your life once more. No one wanted to lose you. No one asked you what your heart's desire was. I should have asked the Lord how to pray for you. I also should have asked you. Please forgive me. I can sense today that there may have been a real tug of war. Maybe you were ready to go "home" and politely tolerated our prayers and man's intervention for your healing. Jesus only prayed as the Father showed Him how and what to pray. I was not very sensitive. I prayed my heart and maybe not God's heart. I hope no one will try to stop me from going home to be with my Lord when that appointed time comes, when I have come to the end of my labors here on earth, when I have more friends on the other side than this side of heaven.

I do not wish to undermine the faith of those who are called to pray for healing. I am grateful to those who have prayed for my healing in the past and those who will do so in the future. I thank God for the many miracles I have personally witnessed and also experienced. I do believe in miracles. I applaud all who have dedicated their lives to finding causes and cures for different illnesses. I do not want to undermine the efforts of medicine to heal our bodies. I thank the Lord for the surgeon who repaired my hernia many years ago. I thank the Lord for penicillin. But I ask all who truly love me to give me and others a choice. When my life hangs in the balance, please allow me to cast the deciding vote. I believe, most excellent friend, I am speaking your heart in this matter. We must not crowd others with our preferences. There is that hour, there is that season when the Father calls us to come home. And some of us are able to clearly discern that hour. When our hour has come, when our job here on earth is finished, we do not want man's medicine to delay or interfere with our homecoming.

To the best of my ability, I secluded myself with the heart of God before picking up this pen to write on this very sensitive subject. I have searched my own heart. I have read about death and dying. I have visited with caregivers. I have pondered my parents' home-going. The books by Henri J. M. Nouwen on this subject are welcomed friends in my library. I will quote from one of them a little later. I have even asked the Lord to allow me to enter into any experience that would allow me to taste, however painful it might be, the imminence of death in my own life. And even as I write, I am made very aware of my mortality.

A few days ago I prayed for our friend David from Houston. He is a young man of 25 who came to visit us with his beautiful wife Hope and their three children. I saw in David the gift of a real leader with great integrity and a genuine desire to be God's servant. As I placed my hand upon his arm to pray for him, I saw David as a Joshua, called by God to lead the children of Israel across the Jordan river and into the Promised Land. I saw myself in the place of Moses who was not allowed to enter in. I saw David as the man I was to give the torch to I had been carrying all these years. I saw him as the man who would nurture the seeds I had planted and cause them to grow. And I spoke out those things I saw in my spirit. I prayed and I wept; and I prayed and I wept. And I am still weeping. And yet, I am so grateful.

What a release and joy it was for me to know that the Lord had raised up a man to carry the torch. I do not know how the experience of being called home could have been any more real or meaningful. Maybe the Lord can now use me to speak your heart. Maybe you have placed the torch into my hands. Maybe the Lord wants to say through me, "Let my people go. Allow them to cross over the Jordan. Don't try to hold them back when it is their appointed hour to come home, when it their time to graduate. Allow your most excellent friend Allan to go on and be resurrected with Jesus through death."

I am careful with whom I share these intimate times with the Lord. Not everyone is able to receive them as a revelation from God. And I will not be so presumptuous as to say I can correctly interpret every vision or know the time of its fulfillment. I am not assuming that my death is imminent, although it could be. I know that unless the experience was personal and real to me, I could not write this eulogy; neither would I sense the urgency to do it now. I shared the revelation I received with our friends the Bashams, whereupon Patsy wrote these words that brought tears to Rebekah's and my eyes:



THE OLD GUARD
1st John 2:13

I write to you, Dear Fathers,
Because you have known Him a long time.
You, who have stood the test
And grown strong on the "Old Vine."

You, who have proved the Way,
Built walls with sword in hand,
Taken the Kingdom by force
And secured the Promised Land.

Perhaps it's time to enter His Rest
And be free to feel His Need.
To enjoy His Grace and Mercy
And watch as He plants new seed.

Don't worry, it will grow
And come to harvest, just like you.
But it could use your years
And wisdom to see it through.

So I write to you, Dear Fathers,
For your path is narrow but dear,
One day you will walk to the Pearly Gates
And announce:
"Praise the Lord, Peter here."




Henri J. M. Nouwen, priest, author, teacher and caregiver graduated just a few months ahead of you. I believe the two of you are of one heart, mind and spirit. I want him to speak a word to all those who are facing death and are fearful of death, whatever the circumstances might be. As I reflect on death and dying, I had a brand new thought. Could it be that those who are given some advance notice will be better prepared for their death and homecoming? Being given the opportunity to ponder our mortality can help us make some wise choices. It can give us time to make our peace with God and those with whom we are at odds. Might we not consider this as a special grace, not only for ourselves but for those who are alerted to the brevity of life? May these words by Nouwen offer comfort, insight and consolation to all, those who are facing death and also those who are left behind. I am challenged by these words: "Don't get ready, stay ready." I will copy here the last two selections from Henri Nouwen's book, "Here and Now" - Living in the Spirit.




Preparing for Death


Some people say they are afraid of death. Others say they are not. But most people are quite afraid of dying. The slow deterioration of mind and body, the pains of a growing cancer, the ravaging effects of AIDS, becoming a burden for your friends, losing control of your movements, being talked about or spoken to with half-truths, forgetting recent events and the names of visitors --- all of that and much more is what we really fear. It's not surprising that we sometimes say:"I hope it doesn't last long. I hope I will die through a sudden heart attack and not after a long, painful illness."

But, whatever we think or hope, the way we will die is unpredictable and our worries about it quite fruitless. Still we need to be prepared. Preparing ourselves for death is the most important task of life, at least when we believe that death is not the total dissolution of our identity but the way to its fullest revelation. Death, as Jesus speaks about it, is that moment in which total defeat and total victory are one. The cross on which Jesus died is the sign of this oneness of defeat and victory. Jesus speaks about His death as being "lifted up." Lifted up on the cross as well as lifted up in the resurrection. Jesus wants our death to be like His, a death in which the world banishes us but God welcomes us home.

How, then, do we prepare ourselves for death? By living each day in the full awareness of being children of God, whose love is stronger than death. Speculations and concerns about the final days of our life are useless, but making each day into a celebration of our belovedness as sons and daughters of God will allow us to live our final days, whether short or long, as birthing days. The pains of dying are labor pains. Through them, we leave the womb of this world and are born to the fullness of children of God.

John says it clearly: "My dear friends, you must see what great love the Father has lavished on us by letting us be called God's children, but what we shall be in the future has not yet been revealed. We are well aware that when He appears we shall be like Him, because we shall see Him as He really is (1 John 3:1-2).

By claiming what we already are, we best prepare ourselves for what we shall be.




Going Home


Our life is a short opportunity to say "yes" to God's love. Our death is a full coming home to that love. Do we desire to come home? It seems that most of our efforts are aimed at delaying this homecoming as long as possible.

Writing to the Christians at Philippi, the apostle Paul shows a radically different attitude. He says: "I want to be gone and be with Christ, and this is by far the stronger desire --- and yet for your sake to stay alive in this body is a more urgent need." Paul's deepest desire is to be completely united with God through Christ and that desire makes him look at death as a "positive gain." His other desire, however, is to stay alive in the body and fulfill his mission. That will offer him an opportunity for fruitful work.

We are all challenged once again to look at our lives from above. When, indeed, Jesus came to offer us full communion with God, by making us partakers of His death and resurrection, what else can we desire but to leave our mortal bodies and so reach the final goal of our existence? The only reason for staying in this valley of tears can be to continue the mission of Jesus who has sent us into the world as his Father sent Him into the world. Looking from above, life is a short, often a painful mission, full of occasions to do fruitful work for God's kingdom, and death is the open door that leads into the hall of celebration where the King himself will serve us.

It all seems such an upside-down of being! But it's the way of Jesus and the way for us to follow. There is nothing morbid about it. To the contrary, it's a joyful vision of life and death. As long as we are in the body, let us care well for our bodies so that we can bring the joy and peace of God's kingdom to those we meet on our journey. But when the time has come for our dying and death, let us rejoice that we can go home and be united with the One who calls us the beloved.

"Our life is a short opportunity to say 'yes' to God's love. Our death is a full coming home to that love. Do we desire to come home? It seems that most of our efforts are aimed at delaying this homecoming as long as possible." How true!

My most excellent friend, my heart rejoices. Both of us have said, "Yes," to God's love which is in Christ Jesus, our Lord and Savior. Nothing can separate us now from the love of God or one another (Romans 8:38-39).



"Death hides, but it does not divide
Thou art but on Christ's other side;
Thou art with Christ and Christ with me,
In Him I still am close to thee."



Beloved friend, I pray that I have truly expressed your heart, Jesus' heart and the hearts of those who love you. This eulogy is both a gift to you and from you. I pray these words will be hidden from those who will scoff at them, and only reach into the lives of those who will not only be comforted and encouraged; but also allow themselves to be challenged to make a decision for Christ. Please save me a place at your banqueting table. When you hear the words, "Praise the Lord, Peter here," you'll know I am at the gate.

Jesus' Stretcher Bearer,
Peter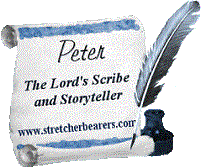 Sitemap | E-mail Peter and Rebekah | Guestbook


All writings by Peter, the Lord's Scribe and Storyteller and all paintings by Rebekah, the Lord's artist are copyright free.