In the heart of God was a thought that was so beautifully expressed through the pen of Taylor Caldwell in the novel The Listener. This novel became a blueprint – gently, but firmly impressed upon Peter's and Rebekah's hearts. One day, to their amazement and great joy, God gave birth to the story and created The Upper Room, the Listening Chamber, and Rocking Chair of God's Heart.

We whisper this invitation into the wind to be picked up by the gentle currents of the Holy Spirit. May those who are exhausted, drained, fragile, weary and wounded find their way to the door of "The Upper Room" and enter into God's rest and renewal. It is a place where the strong can be weak and the weak can become strong.

"The Listener" is waiting for you in The Upper Room.









Dearest Peter & Rebekah,

Just wanted to say thank-you for such loving kindness and the time spent with you. It was healing for the bones! I was taking deep breaths for days, breathing in that Life you prayed. During the drive home, I was thinking about "The Upper Room." As I walked through the room, I felt as though I had been in that room before. Then, words from the Lord came, and He said, "Come, sit in the arms of "The Upper Room"for it is the rocking chair of My heart."


And I remembered the times I had crawled up onto the lap of My heavenly Father, and as He brushed the tears from my eyes, rocked me to sleep. The chair creaking with years of experience as He rocked. I wondered how many had been rocked in His arms as little children coming to Him for comfort, and how many were still to come. It is a place I have come to love. I remembered how good He smelled, and how gentle His silence was.

I remembered the unlimited invitation to stay, and the open invitation of "anytime." I remembered how His robe filled the room with His presence. I remembered an overwhelming sense of peace flowing over and into me as we rocked. I remembered the protection of nestling in
the folds of His robe and being hidden in the downy softness of His love. But what I remembered most of all, was hearing the beating of His Father's heart. A Father's heart of love, protection, and comfort for all of His children. And
I remembered, after some time of rocking, my tears had turned into a whispered smile of peace. And in the security of the arms of my Father, He rocked me to sleep.

That is what I sensed when I was in"The Upper Room."A place where many, many children will climb up into the lap of their loving Father. A place where they will receive their needs –- love, comfort, peace, strength, renewal, healing. A place where they can be held in their Father's arms and rocked to sleep. A place where they can be still and listen to His heartbeat. He is already there; sitting in His rocking chair, with His arms open, waiting for those who will "sit in the arms of "The Upper Room," the rocking chair of His heart."

Thank you again dearest ones for your support and your prayers. Rebekah, I still want to help with "The Upper Room." Let me know when you are ready.

Much Love, Chyenne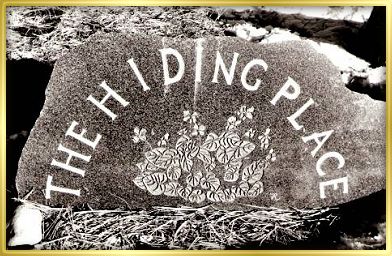 Welcoming Words in Peter's & Rebekah's Yard

In a time of trouble, in a time forlorn,
There is a Hiding Place where hope is born.
In a time of danger, when our faith is proved,
There is a Hiding Place, a strong protective space,
Where God provides the grace to persevere.
For nothing can remove us from the Father's love.
Though all may change, yet nothing changes here.


There is a Hiding Place to give relief,
In a time of sorrow, in a time of grief.
In a time of weakness, in a time of fear,
There is a Hiding Place where God is near.

Author of lyrics and melody are unknown

Where is the Upper Room?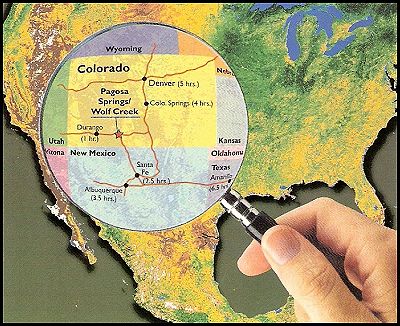 Pagosa Springs, Colorado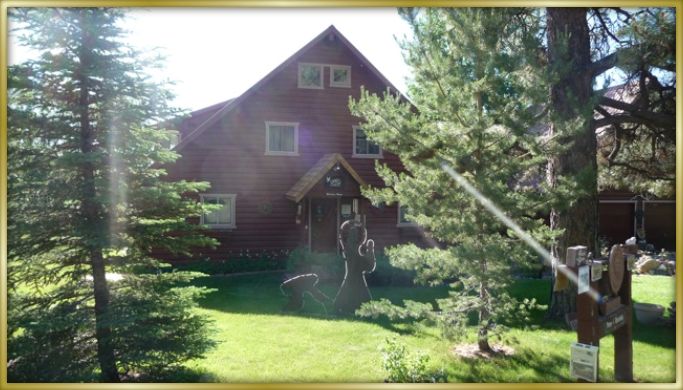 In order to help our guests make a decision about reserving a few days or a week for The Upper Room, we make theses suggestions.

Above all, let it always be a matter of prayer (dialogue with Father/God) if you are to come – when and for how long. We suggest you come alone or with your spouse – at least on your first visit. Although The Upper Room has extra sleeping accommodations, it is primarily built and reserved for those who need a personal heart to heart encounter with their heavenly Father.

Some are able to receive what they need in a few days; others may need to stay longer. We are flexible as far as length of stay. Once you have decided to come and have reserved the time on your calendar and ours, do not allow doubt, fear, confusion or other seemingly "logical" reasons for your time rob you or us. We consider each guest a gift from God and reluctantly and with a grieving heart accept a cancellation.

We have asked one of our guests to describe their thoughts and feelings in order to let everyone know that Satan often tries to tamper with the decision to spend time in The Upper Room. Joe and Debra write in part:
The week before we were scheduled to arrive we felt a strange "pulling" in our spirits. It was hard to make the necessary arrangements; we were tense, doubts and fear of the unknown crept in. The evening I was packing I said to Joe, "Maybe we should just cancel;" and his reply was, "That's what I was thinking." I sat with him to talk and we decided we'd discern where this was coming from. Is it God holding us back – or the enemy trying to rob us and Peter & Rebekah of a blessing? Joe looked at me and firmly declared, "It's the enemy of course! God is not the author of confusion – nor does He inject in us fear and doubt." Nothing would detain us now – we felt a release in our spirits.
The Upper Room is a fully furnished and separate guest apartment – nearly a thousand square feet of love, luxury and pampering; but it has no telephone and no television – on purpose. We request that all electronic devices, especially cell phones, not be taken to The Upper Room. These items can be left in the car or given to Peter & Rebekah for safe keeping.
| | |
| --- | --- |
| The Upper Room is not to be viewed as a substitute for a motel or a launching pad for a skiing, fishing or hiking excursion. The sole purpose is for guests to know they are loved – loved by Father/God. It is a sanctuary and not a playground or a honeymoon suite. It is "The Secret Place of the Most High God" – words from Psalm 91 above our front door. Pets are not invited. It is not a place for children or grandchildren. We have learned this the hard way. | |
The Upper Room is above the garage and has its own entrance. There is a full kitchen provided for your convenience. For those who enjoy eating out, there are many restaurants nearby to choose from. Please bring clothing according to the season you come. We are at an elevation of 7,500 feet. The mountains surrounding our valley rise to 13,000 feet. We experience real winters and lots of lovely snow most of the time. Our log cabin home is located on the west-end of Lake Pagosa – a stone's throw from the airport which is on Piedra Road. We live right on the lake.

We will do all we can to make your stay as inexpensive as possible. In other words, don't let money cause you to miss your appointment with God.
We love being stewards of The Upper Room. It's the best job we have ever had and a big joy and privilege. Your gifts keep us on God's payroll and also allow us to minister to those on tight budgets. Even a box of laundry soap (All is our preference) or a cord of firewood help us make ends meet.

If you would like to get better acquainted with your hosts, Peter & Rebekah, you may want to read our autobiography, "To Hell and Back" – originally published under the title "The Wood Blossom – A Search for Sanity in an Insensitive Word." Please go to the sitemap to find the link to the book.


PS: The white translucent orbs or circular disks in two of the pictures need explanation. They are said to be, and we believe it, the presence of angelic beings protecting and blessing our home and its guests. Many of our visitors take pictures while here. It is only on rare occasion that some of the pictures reveal God's presence both in the house and outside. Guests often reach for a Kleenex to wipe away rivers of tears. Burdens evaporate while an overwhelming sense of peace floods their souls. One guest volunteered these words: "It's the Gateway of Heaven on Earth." Come and see and taste.
Peter & Rebekah

965 Cloud Cap Ave.
Pagosa Springs, Colorado 81147

Phone: (970) 731-2315





Click Here for the First Chapter of
"The Listener" by Taylor Caldwell
(It's in .doc format--You can Open or Save)


Please be sure to read a few of the
"Special Stories from Special People"

Click on image below to read with words large enough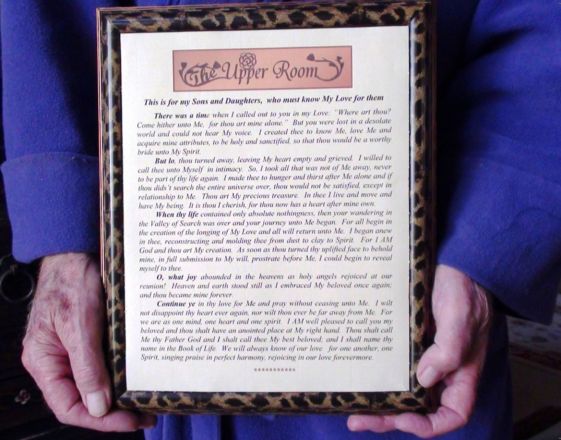 Music Playing: You Are My Hiding Place



---

Sitemap | E-mail Peter and Rebekah | Contents


All writings by Peter, the Lord's Scribe and Storyteller and all paintings by Rebekah, the Lord's artist
are copyright free.