You might recall, from earlier remarks that when I read the above chapters from the Book of Matthew, I must have stirred up a hornet's nest, awakened sleeping tigers, and provoked all kinds of vipers to come out of their dens. I did not see the two men come out of nowhere who spit into my water bottle; John saw them as he was using his camcorder to record what I read.

John had scouted out the just right place on a terraced and landscaped hillside for me to address the residents of Jerusalem in the name of Jesus. It was near our "cave-dwelling" apartment and just across from the Western Wall of Old Jerusalem. The evening shadows had just begun to creep up the wall. Sometime during my reading, bells and trumpet-like sounds announced the beginning of Shabbat.

It seemed to me after I read the last word and John turned off his camcorder, that the main reason for our trip to Jerusalem was accomplished. We were both ready to flee the city and take the next plane out of Israel. And we tried. John was willing to use all the resources at his command to change our flight plans. But since Shabbat had started and was being strictly observed by travel agencies and Air Canada employees, there was nothing we could do until Sunday morning.

John tried his level best on Sunday to arrange for us to leave early, even at the expense of purchasing a new ticket for me for $1,865 – bless his soul. We asked God to shut the wrong doors and open the right doors, and He did.

I had an appointment at "The Stone Table at Maagan" that God, the Father wanted me to keep. I also had a divine appointment with the Word of God on Saturday or Sunday morning – the correct day escapes me. The first thing that John said after he got up was, "I woke up with verses from the Book of Romans that I am to read to you. Could you please hand me your Bible?"

He read chapters ten and eleven to me, and as he did, my anguished soul found a measure of peace. In these two chapters, the apostle Paul, in a most logical, plausible, and kind way, explains God's strategy. He let us know that the Father loves the Jews and that they are part of the true Vine and will be grafted back into it. He explains that the Jews will eventually come into their inheritance and acknowledge that Jesus is indeed their Messiah. He explains that this won't – and can't – happen until after the Gentiles have been grafted into the Vine. He explains that the Jews will become jealous when they realize what Jesus has done for the Gentiles. Their eyes will be opened, and they will also say YES to Jesus, the Son of the Living God. I am paraphrasing what Paul wrote to the Romans.

I must confess there was a moment when I was ready to wipe the dust off my feet concerning Jerusalem and erase my Jewish roots as completely as possible. The pain of rejection was almost too much for me to bear. My Jesus is not welcome in Jerusalem, at least not yet. But in the nick of time, God used my friend, John Reed, to cause me to see God's plan of salvation for the Jews, and I was able to relax and embrace them again. I will let the apostle Paul speak into the hearts of those who have experienced rejection like I have. Paul rescued my heart when he wrote the Book to the Romans. I have copied the two pivotal chapters.

The Jews throughout history have paid a huge price for being Jews. They have paid a huge price for having rejected Jesus. If this was God's plan – and who am I to argue with God's plan – it's about time for me to say, "Thank you." And I do! Thank you, Israel, for giving birth to my Lord and Savior, the Lord and Savior of the whole world.

I also pray that when I come to Jerusalem again, you will say to me, "Blessed is he who comes in the name of the Lord." And please, don't wait too long to invite me back. I am already an old man and traveling across ten time zones is a real stretching experience for me. The picture of Jesus is not on my passport, but when you look into my heart, you will see Him and know that He is real.
These entangled grape vines are the result of a prophetic act on April 9, 2005. The author and a friend, Greg Pettigrew, planted two different varieties of grapes in one container, symbolizing the reconciliation of Jew and Gentile, grafted together into the heart of their Messiah, Y'shua.

Romans 10(2)

Dear brothers and sisters, the longing of my heart and my prayer to God is that the Jewish people might be saved. I know what enthusiasm they have for God, but it is misdirected zeal. For they don't understand God's way of making people right with himself. Instead, they are clinging to their own way of getting right with God by trying to keep the law. They won't go along with God's way. For Christ has accomplished the whole purpose of the law. All who believe in him are made right with God.

Salvation Is for Everyone

For Moses wrote that the law's way of making a person right with God requires obedience to all of its commands. But the way of getting right with God through faith says, "You don't need to go to heaven" (to find Christ and bring him down to help you). And it says, "You don't need to go to the place of the dead" (to bring Christ back to life again). Salvation that comes from trusting Christ—which is the message we preach—is already within easy reach. In fact, the Scriptures say, "The message is close at hand; it is on your lips and in your heart."

For if you confess with your mouth that Jesus is Lord and believe in your heart
that God raised him from the dead, you will be saved. For it is by believing in your heart that you are made right with God, and it is by confessing with your mouth that you are saved. As the Scriptures tell us, "Anyone who believes in Christ will not be disappointed." Jew and Gentile are the same in this respect. They all have the same Lord, who generously gives his riches to all who ask for them. For "Anyone who calls on the name of the Lord will be saved."

But how can they call on him to save them unless they believe in him? And how can they believe in him if they have never heard about him? And how can they hear about him unless someone tells them? And how will anyone go and tell them without being sent? That is what the Scriptures mean when they say, "How beautiful are the feet of those who bring good news!"

But not everyone welcomes the Good News, for Isaiah the prophet said, "Lord, who has believed our message?" Yet faith comes from listening to this message of good news—the Good News about Christ.

But what about the Jews? Have they actually heard the message? Yes, they have: "The message of God's creation has gone out to everyone, and its words to all the world."

But did the people of Israel really understand? Yes, they did, for even in the time of Moses, God had said, "I will rouse your jealousy by blessing other nations. I will make you angry by blessing the foolish Gentiles."

And later Isaiah spoke boldly for God: "I was found by people who were not looking for me. I showed myself to those who were not asking for me."

But regarding Israel, God said, "All day long I opened my arms to them, but they kept disobeying me and arguing with me."

Romans 11

God's Mercy on Israel

I ask, then, has God rejected his people, the Jews? Of course not! Remember that I myself am a Jew, a descendant of Abraham and a member of the tribe of Benjamin.

No, God has not rejected his own people, whom he chose from the very beginning. Do you remember what the Scriptures say about this? Elijah the prophet complained to God about the people of Israel and said, Lord, they have killed your prophets and torn down your altars. I alone am left, and now they are trying to kill me, too."

And do you remember God's reply? He said, "You are not the only one left. I have seven thousand others who have never bowed down to Baal!"

It is the same today, for not all the Jews have turned away from God. A few are being saved as a result of God's kindness in choosing them. And if they are saved by God's kindness, then it is not by their good works. For in that case, God's wonderful kindness would not be what it really is—free and undeserved.

So this is the situation: Most of the Jews have not found the favor of God they are looking for so earnestly. A few have—the ones God has chosen—but the rest were made unresponsive. As the Scriptures say, "God has put them into a deep sleep. To this very day he has shut their eyes so they do not see, and closed their ears so they do not hear." David spoke of this same thing when he said, "Let their bountiful table become a snare, a trap that makes them think all is well. Let their blessings cause them to stumble.

"Let their eyes go blind so they cannot see, and let their backs grow weaker and weaker." Did God's people stumble and fall beyond recovery? Of course not! His purpose was to make his salvation available to the Gentiles, and then the Jews would be jealous and want it for themselves. Now if the Gentiles were enriched because the Jews turned down God's offer of salvation, think how much greater a blessing the world will share when the Jews finally accept it.

I am saying all of this especially for you Gentiles. God has appointed me as the apostle to the Gentiles. I lay great stress on this, for I want to find a way to make the Jews want what you Gentiles have, and in that way I might save some of them. For since the Jews' rejection meant that God offered salvation to the rest of the world, how much more wonderful their acceptance will be. It will be like dead people coming back to life! And since Abraham and the other patriarchs were holy, their children will also be holy. For if the roots of the tree are holy, the branches will be, too.

But some of these branches from Abraham's tree, some of the Jews, have been broken off. And you Gentiles, who were branches from a wild olive tree, were grafted in. So now you also receive the blessing God has promised Abraham and his children, sharing in God's rich nourishment of his special olive tree. But you must be careful not to brag about being grafted in to replace the branches that were broken off. Remember, you are just a branch, not the root.

"Well," you may say, "those branches were broken off to make room for me." Yes, but remember—those branches, the Jews, were broken off because they didn't believe God, and you are there because you do believe. Don't think highly of yourself, but fear what could happen. For if God did not spare the branches he put there in the first place, he won't spare you either.

Notice how God is both kind and severe. He is severe to those who disobeyed, but kind to you as you continue to trust in his kindness. But if you stop trusting, you also will be cut off. And if the Jews turn from their unbelief, God will graft them back into the tree again. He has the power to do it.

For if God was willing to take you who were, by nature, branches from a wild olive tree and graft you into his own good tree – a very unusual thing to do – he will be far more eager to graft the Jews back into the tree where they belong.

God's Mercy Is for Everyone

I want you to understand this mystery, dear brothers and sisters, so that you will not feel proud and start bragging. Some of the Jews have hard hearts, but this will last only until the complete number of Gentiles comes to Christ. And so all Israel will be saved.

Do you remember what the prophets said about this? "A Deliverer will come from Jerusalem, and he will turn Israel from all ungodliness. And then I will keep my covenant with them and take away their sins."

Many of the Jews are now enemies of the Good News. But this has been to your benefit, for God has given his gifts to you Gentiles. Yet the Jews are still his chosen people because of his promises to Abraham, Isaac, and Jacob. For God's gifts and his call can never be withdrawn. Once, you Gentiles were rebels against God, but when the Jews refused his mercy, God was merciful to you instead. And now, in the same way, the Jews are the rebels, and God's mercy has come to you. But someday they, too, will share in God's mercy. For God has imprisoned all people in their own disobedience so he could have mercy on everyone.

Oh, what a wonderful God we have! How great are his riches and wisdom and knowledge! How impossible it is for us to understand his decisions and his methods! For who can know what the Lord is thinking? Who knows enough to be his counselor? And who could ever give him so much that he would have to pay it back? For everything comes from him; everything exists by his power and is intended for his glory. To him be glory evermore. Amen.

There is not one individual, group of people, denomination, culture, government, company, social organization, seminary or whatever, that can boast and announce, "We have interpreted and applied the teachings of Moses and or Jesus so flawlessly that we have earned exclusive bragging rights."

Jesus is not only weeping over Jerusalem; He is weeping over every individual, church, temple, mosque, hall of fame, and monument that celebrates man's ego. The words Jesus spoke in the Temple Courtyard at Jerusalem need to be spoken in St. Peter's Square in Rome, at every temple, mosque, at the Eiffel Tower in Paris, and YES, even at the graveyard where the Trade Center used to be in New York City. Man continues to usurp the position of his Creator and bring Him down to his own level.
Sorry, folks, I said I would not editorialize the script, but I just could not help myself. We have all failed to prioritize our lives correctly. We have all thought of our accomplishments and ourselves more highly than we ought to.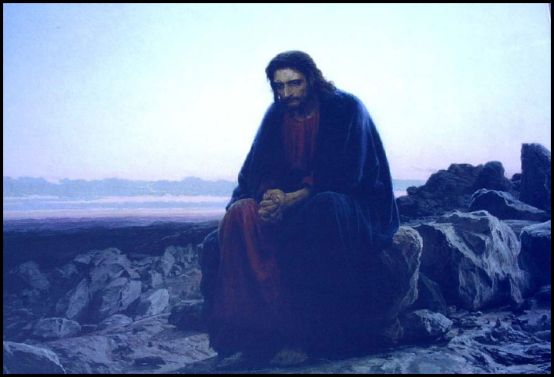 YESHUA GRIEVING OVER THE LAND OF ISRAEL.
ARTIST – UNKNOWN
"But although He made the world, the world did not recognize Him when He came. Even in his own land and among his own people, the Jews, He was not accepted. Only a few would welcome and receive Him. but to all who received Him, He gave the right to become children of God. All they need to do is to trust Him to become the children of God". (The Gospel of John, chapter 1:10-12)