It is Wednesday, October 12, 2005. Rebekah and I are back in our safe harbor on Lake Pagosa, Colorado. I still have not fully recovered from the ordeal of my Israel trip. A cough and sore throat are hanging on for dear life. Rebekah fought it off for two weeks but finally succumbed to it two days ago. It is a part of the price we are both paying to be able to paint these word pictures for you.

On the way back from California, a thousand-mile journey, we stayed overnight in Ely, Nevada, and Moab, Utah. In Ely, we were given room number 110 at the Best Western Park View Motel, the same room we stayed in on the 12th of September. It felt like home to me. I just loved the man who gave us the room and took the money, $77.85 for one night. He seemed to be the owner and in his late seventies. He was wearing a cap that unabashedly told everyone that he is a Believer.

I made the comment, "I am really blessed to see that you unashamedly let all your customers know how much you love Jesus." He replied, "How can anyone not love someone who gave his life for you." Oh, how I loved this man for speaking those words. They were like the balm of Gilead after experiencing so much hostility towards the name of Jesus while in Jerusalem.

In Moab, we stayed overnight at the Comfort Suites, room #127. It was a little rich for my blood, but God gave me the grace to graciously offer my Visa Card for payment. It was the right place to go. We did not leave the room to have dinner but snacked on items we had in the car; and there were plenty. We stretched out on the bed and turned on the TV. One program produced by National Geographic caught my attention. It told the story of three mega cargo ships being routed into the port of Rotterdam, Netherlands, where they were being unloaded. The port at Rotterdam was only one of two harbors, in the world that could accommodate these mega ships.

The first ship was a container ship, the second one was exclusively for iron ore, and the third one was used to move structures like oil drilling platforms. Each ship required special and careful handling. Getting these mega cargo ships safely into port and unloading their cargo required great skill and was fraught with great danger. We were fascinated by what we saw and heard. Learning how much ore the ship from Brazil held in its cargo bays made my head spin. It contained sufficient ore to make the steel required for 300,000 cars. As I heard this, something happened deep within my own cargo bay.

Momentarily, I saw myself as one of those giant mega ships. Instead of a seagoing vessel, I saw myself as a "see-going" vessel. Everything I had seen, touched, tasted, heard, felt, and experienced over a lifetime was stored deep within my cargo bays. All these impressions needed to be unloaded, sorted, saved or trashed so that they could bless some, as yet, undefined audience.

The need to get back to my safe harbor and unload my stories suddenly became the highest priority. The moment we returned to our home in Pagosa Springs, I turned on the computer and started. I composed the following trip report for those who had made it possible for me to go to Israel. A positive response was immediate. Within twenty-four hours someone offered me her laptop computer. The responses were varied. They opened my understanding and showed me things the Lord wanted me to see and know. I was greatly encouraged and even more highly motivated to unload the cargo quickly. Even though I was feeling very poorly, I wasted no time in doing so.

Back from Israel Letter - October 8, 2005
I am back in my safe harbor on Lake Pagosa, Colorado, USA. What a trip! I knew it would be hard, but I did not know it would be this hard. I am herewith alerting all who helped translate the dream, "Connected to my Jewish Roots Again," into reality, that it has been accomplished. Being grafted back into my Jewish heritage was and still is a most painful process. You will learn the whole story when you read my finished manuscript. But here is a snapshot of what happened one day: I engaged a Jewish man in a conversation. After a while I asked, "Are you comfortable with the name of Jesus?" He replied, "I appreciated it that you did not bring up His name."
I will seclude myself in "The Upper Room" for the next several months to paint a picture with words of my spiritual and physical odyssey. This will be my gift to those who made it possible for me to go to Israel, and more specifically, to Jerusalem. Jerusalem was very hard for me as I was allowed to identify with Jesus' anguish as recorded in the Book of Matthew, chapters twenty-three to twenty-five. I am still traumatized and will never be the same. My heart has been enlarged. I love and honor Him more than ever before. Jesus was fierce and fearless when He confronted the religious establishment and their traditions two days before He was crucified. Only a God-Man could have endured such pain and rejection and still say, "Father, forgive them, for they know not what they are doing." That is the heart of a real father. That is the heart of our heavenly Father.
I was shown that the religious establishments and traditions of this world still have a choke collar around their followers. Choke collars may be velvet lined, but nevertheless, they are very real. I was shown that little has changed in 2000 years. I was shown that His words still needed to be broadcast and received into the heart of humanity. And that's what I did, standing on a hillside near the Jaffa Gate. I spoke Jesus' words to an invisible crowd that was very angry and very real to me. In fact, while speaking Jesus' words, two men came from nowhere. One of them picked up my bottle of water and spit into it. No, Jerusalem is still not a safe place for the Lord's forerunners. Forerunners, like John the Baptist, prepare the hearts of men to be able to recognize and receive Jesus as LORD of lords, and KING of kings.
Jerusalem, please note that I am both Jew and Gentile.
Jerusalem, please note that I took two olive branches from your city and inserted them in the base of a wood sculpture of olive wood made in your land. It is a sculpture of the Praying Hands. These hands are praying for both Jew and Gentile to be reconciled with one another in Christ Jesus.
Jerusalem, please note that my heavenly Father loves to answer my prayers and that He has dispatched legions of angels to do so.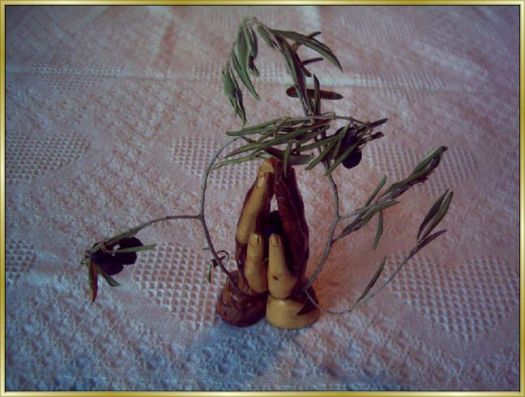 Just now, I feel like a cargo ship that has returned from a long and treacherous voyage. In its belly are stored valuable treasures destined for people who are hungry for real food. My pen, time, and many pieces of paper will be necessary to unload this rich cargo. If there is someone out there who would like to loan me his or her laptop computer, the unloading process would be easier. And by the way, I learned how to type with all ten fingers in ninth grade. That was fifty-seven years ago. My typing skills have improved since I finished the course at Joan of Arc Junior High in New York City.
The Holy Spirit has shown me that I will be able to connect all the significant dots in my life and paint a complete picture that will encourage many and allow others to view their lives through new lenses. As I write, I am reminded of these words Jesus spoke to His disciples and also to me: "I will send the Holy Spirit who will bring my words to your remembrance and explain them to you."
That's Peter's paraphrase from the Book of John, chapter fifteen. I shall sit down and write with that kind of confidence in my heart – my heart and Jesus' heart intertwined.
I will keep careful track of each person who responds positively to this letter. Those who wish to receive a copy of the finished manuscript please let me know who you are. Those who are directed to pray for me while I am unloading the treasures from the belly of my cargo ship, be assured that I treasure the gift of your prayers. Praying can be very hard work and often fills the soul with great anguish. One close friend has a paid employee on his staff whose only job is to pray for his company and family. Other CEOs, please take note. I have promised Jesus and myself that I would give this assignment my highest priority. Until the manuscript is complete, our guest apartment, "The Upper Room," will be my personal domain and sanctuary.
It has been suggested that Rebekah and I take a sabbatical. We both feel admonished to do so. We are both in need of restoration. Rebekah did not go to Israel with me, yet she silently and courageously shoulders the pain and burden I brought back. You might hear these words on our answering machine a little more often: "Praise the Lord, Peter here! This is the Hiding Place. Peter & Rebekah are hiding just now. Please leave a message or call again." When you hear those words, it would be a good time to lift us up in prayer.
A special thanks to everyone who encouraged me to make the trip to Israel. A special thanks to those who prayed over the wallet-size cards I took to Israel, and to those who put spending money in my wallet. Rebekah went with me as far as California, where I rendezvoused with my traveling companion, John Reed. John took care of all the logistics connected with traveling. Rebekah stayed with John's wife, Henrietta, in their new home in Meadow Vista, a very safe place for God's saints and forerunners. For more details, you will need to wait for my manuscript.
"Blessed is he who comes in the name of the Lord!" (Matthew 23:39). The Hebrew equivalent is Baruch Ha Ba B'Shem Adonai.
Shalom,
Peter