It's Friday morning and that means that another working day is ahead of me. Just a little greeting to you this morning and also a wish. I noticed last night that my gray suit won't last long. Along the pockets the thread is worn and the pockets are tearing in. Please send me another suit. I would like the blue one from Mallorys. So when you have time, please send me the other suit and also a belt. My trousers will stay up without a belt; but it is custom to wear one, so I will wear one. I'll see you later; and I will tell you then what I did last night.

Last night I just had to take a trip into town. I just had to get into town and look at people and see if anything exciting was going on. First I went to the America House and looked at movies. But I could not sit still. So I walked with my German friend through town a little. After that I had a glass of beer, and then I was on my way home. But as I was waiting for the streetcar, I was attracted by the sign "Hilly Billy Guesthouse." I went in. I met a few of my friends there. I had another bottle of …… And I did a bit of dancing. I surely enjoyed it. The girls who were in the guest house surely knew how to dance and cater to the interests of the American soldiers.

I tried to dance the jitterbug. I did not think I could do it anymore. Against my expectations I could dance that thing wonderfully. I am smiling now when I think of last night. I would have stayed all night, but at twelve I had to be back to make bed check. The boys are telling me lately, "We can talk and joke with you now, Peter; we thought you so religious that no one had any connections with you." I am adjusting myself to the society I am living in. The adjustment is not easy, but it is getting better all the time.

I want to tell you that the second bottle of beer did not agree with me so well. It gave me a splitting headache all night. But now it is gone. A glass of wine I really like better than beer. When I feel extravagant I buy some wine.

Back to duty time and good-bye to you! The box of candy arrived yesterday. We all enjoyed it very much. I ate the most. We have been having wonderful weather all the time. The sun is shining as wonderfully as in California, but I still prefer California.

Your friend, brother and son,

Your Dieter (Peter)

How is Hellmut getting along, and what are you going to do in February? I am real happy I am adjusting myself that I can do my work and live with people. I am proud to wear this uniform for two years. I love you all very much. I really do.

So long



December 7th, 1953
Dear Mother, Papa and Hellmut,
There is such a big line at the mess hall that I will write you a letter instead of waiting on line. Let's see how much I can write in a few minutes. The typewriter is coming in handy because I am improving a lot. And now I can write a lot faster on the typewriter already than I can write by hand. That is one thing I am learning anyway.

The other night, it was Saturday, I went to a café with my friends to have a glass of beer, to meet a girl, and in general just to have a good gay time. We danced, we drank we flirted, we talked, and we were all having a grand time. A man was sitting at another table who asked us if we wanted to have our picture drawn. I figured that I could not lose too much if I invested twenty-five cents. I am enclosing the results.

I stayed out till three that night. Actually I was supposed to be back by one. I will tell you how I pulled this trick without getting into trouble. I phoned up my friend in the hospital and told him that when the officer comes around to make bed-check, then he
should get into my bed. After the rounds were made, he could get out of my bed again. My friend was on emergency duty that night. When 1 A.M. came around, he told the nurse that he wanted to go to his room to pick up a pack of cigarettes. Everything worked smoothly. It is surely fun to pull a few tricks like that and to have the courage to do it. That going out business has a good influence on my work. If I have some fun at night, then I can concentrate on my work much better the next day even if I only slept two or three hours. There is so much fire in me, that I just can't sit still and do my work properly if I do not go into town a few times a week.

I received the wall paper letter and the money order this morning. Your letters are so real and down to earth, that I love to read them. Keep 'em coming; even if I am slow on the draw. Your letters and Hellmut's are one of the things that I look forward to. Another thing I look forward to is going out with the boys. I love to be with boys now; they do not have to think and say the things that I think about. When I am with the boys, then I have fun with them and joke with them.

I am putting in for a furlough from the 4th to the 14th of January. I will go to Ruth. Xmas I am spending with my friends in Nuernberg. Mrs. Bloss wrote me a very nice letter again. I think a lot of her. She is down to earth and yet spiritual in a practical fine way.

That is about all the time I have; it is 25 minutes after 12. I am not buying civilian trousers, I am buying another pair of army trousers. I am also enclosing a little calendar for someone's room. I was very happy to read that you have made an improvement in our home. I love to have a comfortable, nice-looking neat home now. I hope Hellmut has a date about once a week. It is very easy to lose contact with the girls if we do not associate with them. And girls are really one of the sweetest things that God has created. Women will probably feel vice versa. Not probably, but surely.

Good-bye to you all and happy home-coming to you dear Papa,

Your son, Peter



December 10, 1953
Laue, Peter D.
56192300 Pvt.–2 – Med.
Det. 16 Field Hosp.

Age: 20 – Race W. Length of Service 10/12
Date of Admission: 11 Dec.
Source of Admission: Direct.

1. (101010) Tiredness reaction due to typing for seven hours since seven-thirty this morning. Official time now: 16:30 hours

*********************
Hello, dear Folks, I thought I would start off with a little joke. These are the cards I type every day. At the moment I have increased my speed to about 50 cards a day. At the beginning of my career I typed about 18 cards a day. Now the keys are really clicking. I also make one carbon copy.
I received your letter in which you told me about Papa's homecoming. I bet you were thrilled.
I received the telegram one day after I read about it in your letter. I received a package from Alice today. I won't open it yet. She is really wonderful to think of me. I know Alice will have her pleasure when she sees how I have changed – a real big boy with lots of silly ideas and lots of pranks stored away in his head. I am very much one of the boys, and yet I am still Peter. It's mighty, mighty tough at times to be happy all the time. But I am learning it.
I received a letter from Mrs. Redfield yesterday; it was written on the 19th of November, and it came by regular mail and without the APO number, and it only took three weeks. How do you like that? I heard that first class mail, not air mail is also going by air from New York. Send once a regular letter and I will tell you how long it took. I can send you one too.
I had a date last night, the girl and I went to the show. It was real nice. I did not pay too much attention to the show. I have been dancing with many nice girls lately. There was one real cute, blonde one who I wanted to see again. I think she was a little scared to give a soldier her address after the first dance. Maybe I will meet her again? Next week I will meet a young married couple, and I don't know what they are like. The man is a professor and his wife is a sculptor, so I am told.
Thanks for the tooth brush. My old one is worn to the bone. I threw it away already. Write the Ephebian Society once where I am. Maybe I will see my name in the paper also and get some interesting mail. I think I told you that I am taking a furlough at the beginning of next year which I will spend with Ruth. I probably missed to answer a couple of your questions. If they are important tell me so and I will tell you the answer.
This weekend I have an overnight pass, Saturday night and Sunday night. I don't know what I will do yet. I might go out with my friends. Maybe I will go to the Hilly Billy Guesthouse. That is a German place for the Americans. It is really a noisy place, but fun anyway for a change. And after sitting all week on a hard chair in the office, I just have to get out and hear some noise and jump around a bit.
I am glad that my package is taken care of. I would have been sad if nothing would have come for Christmas for me. Everyone is getting something, and so I did not want to be left out. I wonder what is in the package. You make it sound real exciting. Is Hellmut really going into the Army? I can't believe it yet. That time will pass also, Hellmut. And you can have a lot of fun if you go about it in the right way. These two years can be very nice. You don't have to study all the time. Let the time approach you. It is good to go along with the rest of the fellows to some extent. You live with the boys, eat with them, train together, go to the same bathroom; you might as well have a joke or two with them.
Well, good night, I will try to get the letter off yet this evening. I won't read it through. I enjoyed the letter, Mother. I was wondering today if I would not get some mail. This week you kept me pretty short. But I do the same thing with you, so I am not permitted to complain.
Best regards to all and to Beverly and merry, merry Christmas,
Your son



December 15, 1953
Hello Mutti, Papa and Hellmut,
Happy Christmas and New Year to you all. Mine will be nice too. I will be with very nice people and with my friends. The package has arrived. I will open it on Christmas. I wonder what is in it.
You know, I was just wondering if Hellmut is doing the right thing to step voluntarily out of school and get himself drafted. The more schooling he has had the better it will be for him in the Army of the United States of America. You see, what is happening in Peter's case.
People who have a profession that the army needs, like scientists, social workers, doctors, etc. go into the army with a commission. They are officers as they come into the army. Think things over clearly, Hellmut. Don't be so fanatic about the gold. You will get it soon enough. Money is not so important that you should give it that much consideration, because if something should once go wrong in that mining enterprise you will be very disappointed. I am speaking out of my own experience. I learned the hard way that it is not good to be fanatic, not evening a good way.
A very happy Christmas to you all. Please give my best regards to Beverly and to Lillian. Have you had a date? I have. And what a date, vow, I would like to have a good talk with you about that, Hellmut.
Lovingly, Dieter (Peter)



December 18, 1953
My dear Parents and my dear Brother Hellmut,
Today I received one letter from the 10th from Mother, one letter from Papa, and another two letters from Mother and Hellmut written on the 12th. That was a big harvest.
Dear Hellmut, after I had read all the letters, I was most anxious to write you. But I would even rather have spoken to you. I wished you would be here now. I love you very much and that is why I want to tell you some of the things that have been happening in my life lately. In a away it is hard for both of us to get a good understanding, because there is this love which is between us. Because of this love, we will always feel that what the other person says is right or at least should be given thorough consideration. If I should say something which goes against your grain, then you will be hurt much more than if a stranger would say the same thing. For this reason I was often hurt by mother's letters. I love Mother so much, that I thought that I have to agree with Mother always 100 per cent. I was often depressed for a whole day because there was some disagreement between what Mother wrote and what I thought was right. So, there came a time in my life when I knew that I had to decide what I should do instead of always depending on Mother and Papa. It was like cutting the cord that connects the baby to the mother for a second time.
Dear Hellmut, I wish so much that the question of girls will resolve itself in a very good way for you. I wished I would be with you now, because there are many things I would tell you. It is only in a few families that the question of girls turns from something natural into such a problem. It is meant by God that the boys like the girls. It is such a joy for me now to go dancing with a girl or to go to a show. It is so wonderful to hold the girl's hand or to let your hand brush over the girl's forehead and hair. Just look at the animals how much they love to be petted. We are no different, Hellmut. Have you not felt very happy when a girl was just a little affectionate to you? I know I have. And a girl feels the same way when you are affectionate to her. These feelings God has created in us; they are good. I do wish I could help you overcome your inhibitions. These inhibitions are not inborn. They are created through the society that we are living in and particularly through our upbringing. You know how I was for two years. No girls existed for me, everything material I considered as something sinful and low. That is a misconception. God created everything, both matter and spirit, and the one is as good and important as the other. For two years I was going into extremes in a spiritual way. And that is as bad as being extreme in a material way. There would not have been much missing and I would not have found my way back. Now I am becoming more practical, more a part of the world that I am living in now instead of being a part of the world that is to come later on. I am trying to see what good there is in the way most people live. I see today that there are a lot of good things in the way the average person lives.
Today I go on dates with girls again, and I am enjoying it so much. I have dated a great variety of girls. To have a date is not a problem like it used to be for me. I just ask a girl, "Do you want to go dancing or to a show or just take a walk through the town?" Or I just go to a café with the girl and we have a glass of wine or beer or coffee together. There are so many restrictions in the Laue family. It is perfectly all right to have a drink together or smoke a cigarette together. That is no mortal sin, dear Hellmut. It happens so often that if we are so set and extreme in our ideas, one day we go ahead and do that thing we considered as wrong previously. Just look at this Peter boy eating candy these days. I have made up a hundred times already for all the candy I have missed to eat in two years. Now I am sometimes so tired of sweets that I enjoy a pickled cucumber.
You said in your letter that it was more difficult now to find a girl than it was previously. That should not be, Hellmut. You have grown even further away from the girls. I would so much wish that you would meet a fine girl who would take you into her arms and show you what it is like to be loved. But be careful that you do not fall very much in love when a girl is affectionate. Find a girl whose nature it is to be affectionate, because not all girls have that disposition. It is in most cases the boy who takes the girl into his arms. Once a girl has taken you into her arms, the second time it will be a lot easier for us to do it.
Since the last few weeks I have been going out with many girls. This pleasant diversion and wonderful entertainment has a marvelous effect on my work. I can accomplish twice as much, plus that the work is a pleasure. Just imagine, typing all day is becoming a pleasure for me. Now when I have work, then I really work. Previously when I worked my mind was often on something else, and it was usually on girls. Do not tie yourself down to one. Sometimes you just have to gracefully say to a girl that you are busy. How often have girls done that to you? You do not have to feel bad to say "no" to a girl so that you can take out someone else. I think I have said about everything on the subject for this time.
Our family is a family packed full with a lot of problems. It need not be. With all we have learned, we should surely by now be able to solve a few of them. If we cannot solve them, then our philosophy is not very practical.
I am surely looking forward to the music you have sent. I have not played much. But the times that I have played have made me happy. Maybe when I get some good music, I will get down to business. I surely started something with the accordion. So far three other boys have bought themselves an accordion. It is good, because it keeps them many a night out of the beer halls.
Today I was a bad boy in my eating habits. Eating no breakfast is a routine thing with me. I rather stay in bed ¾ of an hour longer. I usually eat enough at night to last me through the noon meal. During the morning I had three cookies, a cup of black coffee – I always drink it black, a glass of grapefruit juice; at noon I had half an orange and a glass of grapefruit juice; in the afternoon I had a little candy that Horst sent for Christmas. He sent a fruit cake (Klaben in German), some nuts, dates and candy. That was very nice of him and Edith. In the evening I had a half a package of dates and a bag of peanuts. I must admit that it was on odd diet. I did not feel like eating a square meal today, so I did not do it. You don't have to worry about me losing weight.
This afternoon I went over to the shopping center and bought another pair of army pants for $10.30 and a pair of socks for 60 cents. The pants have to be made a little shorter yet. They will be ready next Wednesday. They are a size larger than the ones I have on now, and they also have a zipper instead of buttons like my pants have now. What else can I tell you? From Sonja I have not heard anything. Maybe she is still in Trossingen? I am completely in the dark.
This morning I received two little airmail packages from Mr. Zeidler. Isn't that nice of Mr. Zeidler? He is a man with a lot of personal problems and a very good heart. I know what is in one of the packages, because I wished it. Should I tell you what is in the package? Will you understand? If you will, I will tell you, otherwise I am going to keep it a secret. There is a pee, pa, pipe in it. Yes, I wanted to have a pipe. I did not want to buy it myself. When Mr. Zeidler asked me if I wanted anything for Christmas, I told him that I would like to have a pipe. I remember the time in Bremen. I was about ten years old then. I went into the bathroom and rolled up toilet paper and smoked that. Do you know of that? Did you ever catch me doing it? I told you my black deed now. Will you give me a spanking? Please don't?
I had two sweet dates Wednesday and Thursday with a very nice girl. She did not speak any English, and she never went out with an American. In fact, her parents are very strict and boyfriends are taboo. She was only for a few days in Nuremberg. Today she went home again to her parents. She lives near Ansbach. She is a farmer's and carpenter's daughter. The first night I went to the Storch (Stork) Club with her, a fine American place where one can dance, drink and listen to music. It closes at 11 PM. So you can see that it is a respectable place. But to tell you the truth, I have also been in unrespectable places that close in the morning. Now back to the girl and the date. Here name is Hilde. She loved it very much on our first date; and I also loved her and the date. I loved the way she was dressed. She had a very red blouse on and a black skirt. Her hair was light brown to blond, and her eyes were brown. When we danced together she went up to my shoulders. Maybe she is 5'5" tall. She was two months younger than I was. We did not speak much about serious things; we just acted our age. The next day I took my date in a taxi (the first time she had ridden in a taxi) to the American theatre in downtown Nuremberg. I explained to her the movie as well as I could. During the show Hilde gave me something. It was a chocolate horseshoe wrapped in golden paper. I am going to hang it up in my locker. Was that not a sweet thought of Hilde? She said that if she would have known that I was going out with her again, she would have bought me something much nicer. Through these little things you can tell a lot what a girl's heart is like.
I think that is about all I can write you tonight. I am getting tired. You know, I have typed all day already. Maybe I will play some gin rummy with my friend Eddy yet when I go to my room. How do you spell that game correctly? I would like to write Beverly yet, but I am getting too tired for that now. You can do me a favor. Call Beverly up for me and wish her a postponed happy Christmas and a happy New Year from me. She is in Los Angeles until January 4th, 1954. I sent her Christmas greetings to San Diego which she will get when she goes back to school.
Whenever I hear that some improvement has been made on our house, then I am very happy. When I come back in about one year, I will be very happy if there is a nice cozy corner.
Something else that might interest you. Last Monday I met a new family. I might have told you that the husband is a teacher and the wife is a mother and sculptor. They live on health foods and are almost vegetarians. They have read the Autobiography of a Yogi, and they were very much interested in the book. They liked many of Yogananda's ideas. However, their enthusiasm was not quite as highly aroused as it was in our family. If we can be so enthusiastic about a new diet, it is no wonder that the same thing also happens on other planes. I am stepping a little closer to religion again, but I do it with cautious steps. I am not stepping closer to any particular religion. When I think of religion then I draw Christ into the picture. To church I have not been for a long time. But around this Christmas season I want to become peaceful and listen to the angels.
I will give each one a kiss on the forehead – Mother, Papa, and Hellmut; and Hellmut may give one to Beverly from me, a kiss of friendship.
Your son, your Dieter (Peter)
I just received the music. I am very, very happy about it. I will practice this afternoon – such wonderful songs. Dieter (Peter). Merry Christmas and merry New Year.



December 26, 1953
My dear Brother, Mother and Papa,
I bet you selected that sweater, Hellmut. Well, I'll tell you – it's just wonderful. It goes well with my shirts and with my pants and with the suit you are sending me. It is so soft and smooth. I cannot help but like it very much. It comes in very well. You know that we must wear a tie when we wear civilian clothes and you also know that I do not always like to wear a tie. Here is my newest scheme. I wear a sport shirt and sweater on top with the collar outside. When I go out I wear a scarf and then I am the only soul who knows that I have no tie on.
Everything else from the chocolate to the nuts and figs I enjoyed very much, coffee and tea included; but the sweater was tops. Today I am wearing your sweater and the shirt which Alice sent me. If I ever knew a fine woman, it is Alice. I don't care how much she smokes or how many cups of coffee she drinks, she is swell. She cares for her family, she has lots left over for friends and me, and she is always cheerful when you visit her. She also gets along with everyone. That is important. I realize that since I have come into the army. If we are so particular with whom we will chum, people like ourselves will have it tough in the army. It is good if we can feel at ease and mix with any crowd.
I almost forgot. With the radio you have made me a very great pleasure. I love to listen to it; I am listening to it right now. It is standing next to my bed. It is also such a nice radio that I am proud to own it. It is also making my comrades happy.
It has been another experience for me to spend Christmas so far away from home. It did not quite seem like Christmas. Christmas eve I went to church; however as much as I tried to feel the Christmas greetings, I did not feel the peace. On Christmas day I went to the opera. I saw "The Walkuere" (Opera by Wagner) together with my friend. I enjoyed this and hope to go to the opera more often.
I met that evening a soldier who has similar difficulties as I have been having. I hope here will be my first case of really helping someone. It was wonderful for me to see how relieved my friend felt after we had talked together. And he is so happy to know there is someone who understands him. It creates very great tensions in a person if he has to keep his ideas to himself. That is why I enjoy and have to write sometimes – in order to express my ideas.
I have noticed that great tensions are created in a person if too many restrictions are placed in his life. These restrictions are either developed at home or through the church. If the idea of sin is not taught in the right way, it makes life difficult. No one should live out of fear of God.
I received so many presents this Christmas, more than any other year. It was good to know that so many people did think of me.
Yesterday we changed our beds around. Now it is more like a living room. There is a night table between each
bed. The beds are now parallel to the windows like this:

On the table there will soon be flowers. I am thinking of getting willows. I am enclosing a layout of our hospital that you know where I sleep, eat, and work.

I am going to watch out for the next letter from you and see if you have noticed anything different about this letter. Let me know who spotted the difference first. Then we can see who is most observing.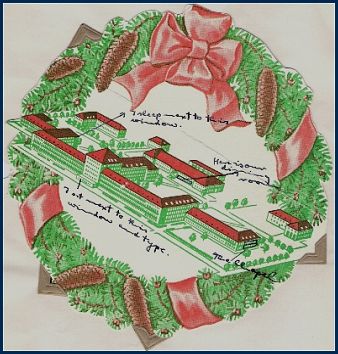 Did you have a nice Christmas? How did you spend it? I thought of you. How is Arthur and his wife? I hope they will find each other. It is such a blessing to have a nice companion. How are you doing Hellmut? I do wish that you will feel perfectly at ease together with girls. I hope this question of girls will be solved before you come into the army. Do you really intend to enter in February? Sonni wrote me, but she wrote me nothing concerning her trip. She spent Christmas with Ernst in Heilbronn. How was the trip to the mountains? I am interested to keep up to date with the newest developments.
I have had the last 3½ days off. Tomorrow morning I go back to my typewriter. During New Year I think I will have again 3½ days off. But in order to get our work done we must work Monday, Tuesday and Wednesday night. I have done a lot of sleeping lately. I can sleep easily till twelve, then turn on the radio and read for another two hours in bed.
We have an odd winter this year. We had no snow for Christmas. It only snowed twice a little bit and then the snow did not stay. I was so anxious to have a white Christmas this year. But my wish did not come true.
Good-bye and may God bless you all,
Your boy Peter
I received your "Quickie" this morning (28th) with Geoffrey's letter, thank you. Love